Darvocet Lawsuit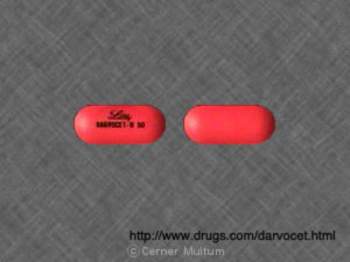 A Brief Guide to Filing a Darvocet Lawsuit
Darvocet FDA Warnings and Side Effects:
The United States Food and Drug Administration, in November of 2010, banned Darvocet and other brand/generic drugs containing the pain killer propoxyphene. Darvocet was banned because new studies revealed a severe increase in cardiovascular events.
Xanodyne Pharmaceuticals, the maker of Darvocet, agreed to withdraw the medication from U.S. markets at the request of the USFDA. Moreover, the FDA informed generic manufacturers of propoxyphene-containing drugs of the manufcaturer's decision and requested a voluntarily removal of similar products.
The FDA sought market removal of Darvocet after receiving clinical data revealing that the medications puts patients at risk of serious to fatal heart rhythm abnormalities. As a result of this information, the agency concluded that the risks associated with Darvocet outweigh its benefits.
In addition to cardiovascular events, Darvocet side effects include: dizziness; lightheadedness; drowsiness; upset stomach; vomiting; stomach pain; difficulty breathing; mood swings; difficulty urinating; constipation and rash.

Darvocet Lawsuit History:

In 2010, the painkiller Darvocet was removed from the market due to concerns about its addictive qualities and ability to produce adverse effects including an irregular heartbeat and kidney ailments. In the aftermath of this decision, litigation concerning Darvocet side effects was initiated—currently these Darvocet lawsuits are in their preliminary stages. If you wish to seek a Darvocet settlement, it is important to secure legal representation and act with a sense of urgency.

Currently, federal cases relating to Darvocet side effects are handled in multi-district litigation venues. This procedure consolidates many different cases seeking a Darvocet settlement and gives one court the responsibility for handling them. In this case, a federal district court in eastern Kentucky has been charged with hearing every Darvocet lawsuit.

All cases seeking a Darvocet settlement revolve around three issues. The first issue is whether defendants knew or should have known of Darvocet side effects, including all cardiovascular complications. Another question considered by every Darvocet lawsuit is whether the medication was faulty in design. And lastly, responsibility for manufacturing the medication is also considered in every claim for a Darvocet settlement.

A June 2012 California ruling found that people who experienced Darvocet side effects while taking a generic version of this drug can join the multidistrict litigation. This means that besides manufacturer Eli Lilly and Company (makers of trademarked version) manufacturers of the generic equivalent may also face a Darvocet lawsuit. This makes the process of deciding how to handle every case for a Darvocet settlement even more complex.

At this time, trials have not yet commenced regarding Darvocet side effects. As of November 2011, at least 100 people have joined the multi-district Darvocet lawsuit litigation. There is still time; however, to file a complaint seeking a Darvocet settlement. In order to join the multidistrict litigation, an attorney must submit a plea to request a transfer to the Kentucky court system.

Multidistrict litigation generally begins with a few "bellwether" cases. The verdict obtained in every initial Darvocet lawsuit will aid in determining how future cases will proceed. If plaintiffs are successful in obtaining a Darvocet settlement, the likelihood of the manufacturer negotiating an out-of-court settlement is likely to increase. However, the starting date for trials concerning Darvocet side effects has not yet been scheduled. This means that the resolution of every Darvocet lawsuit does not have a timeline for resolution.

If you wish to file a claim for a Darvocet settlement, it is imperative that you file a claim as soon as possible. Consult with an attorney about your Darvocet side effects as soon as possible if you wish to explore this legal option. Once you have filed your case, it is impossible to know how long it will take to achieve a resolution, but you can be assured that your claim has been submitted in a timely fashion.
Sources:
1. http://www.tga.gov.au/newsroom/media-2011-dextropropoxyphene-111122.html
2. "FDA Takes Actions on Darvon, Other Pain Medications Containing Propoxyphene".
U.S. Food and Drug Administration (FDA). 7 July 2009.
3. http://abcnews.go.com/Health/PainArthritis/painkillers-darvon-darvocet-coming-off-us-market/story?id=12194165